What to expect at the Airport?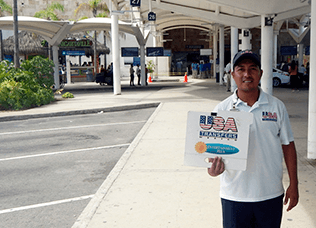 T3
Terminal 3
As you exit the airport at Terminal 3, you will see all the greeters with signs in front of you.
To the right is the Air Margaritaville Snack Shop and to the left is the Meeting Point (more like an outdoor lounge).
The Berry Hill Baja Grill is to the left also and services the Meeting Point.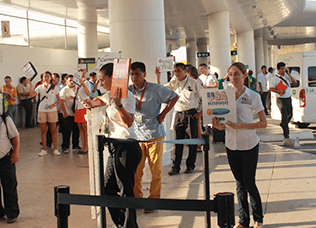 T2
Terminal 2
If you are arriving to Terminal 2, as you exit the airport you can only go straight or to the right. Look to the right to find our greeter holding a sign with the USA TRANSFERS logo on it. He will call for your vehicle.
Around the corner to the far right is the Meeting Bar, and past that is the snack bar and shuttle that takes you to Terminal 3 if you need to go there.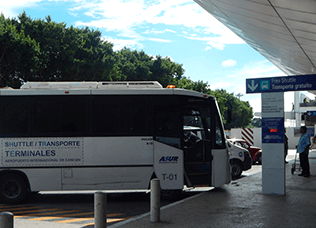 MF
Meeting friends on other flights
If you are meeting others on different flights and arriving at the same terminal you can hang out at one of the meeting bars outside. The first group should find our greeters and let them know where you are. If you are arriving at different terminals the first group will need to go over to the other terminal. You can walk from one terminal to the other...it is about a 10-15 minute walk with luggage or take the free shuttle that goes every 20 minutes between the two terminals.
We have uniformed staff (see above) at the airport to greet you (greeters). They hold a sign with the USA TRANSFERS logo on it. Our team is always around. Once we have you they call the driver who is parked in a main parking lot. All this info is on the e-voucher we send you.
You pay the driver at the airport in full. Amounts are in US Dollars (no coins or bills that are torn or marked as we can't exchange them here). No traveler checks. We accept Mexican pesos (check with your driver for the current exchange rate). We accept Canadian Dollars (cash only) at a rate 1.25 CAD = 1 USD for those clients arriving into Cancun on any WESTJET, AIR CANADA, AIR TRANSAT or SUNWING flight. No other flights, airlines will be allowed to pay in CDN. To make it simple we round down to the nearest $0 or $5. Example a USD balance of $65 x 1.25 equals $81.25 CDN. Your balance would be $80 CDN. Pay driver EXACT amount as NO CHARGE in CDN will be given. Anything more will be considered a tip.

You can also ask us for a link to pay on line.

**Check your departure voucher, as it already shows a zero balance. We assume you will be paying in full upon arrival.
Our staff is always there. Odds are they are just loading up another family into a vehicle. On the arrival e-voucher we will send you, there is a toll-free number for you to dial from the airport. All you need to do is pick up any one of 5 LADATEL phones within a 30 yard radius of where you will be (there is one right behind the guy selling drinks), dial the number, no coins needed and we will find him for you. All you need to do is dial the number!
No. It is for those lost at the airport. Also your hotel will charge around $10 usd just to connect you to a 1-800 number which is forwarded to my arrival guys at the airport. They cannot help you in any way. On the e-voucher is our local numbers, email, etc.
Yes. It is the best way for me to get you the "stuff".
We will monitor your flight. You only need to contact us if you will arrive on a different flight.
Yes we have BUT we can never guarantee having it for you. It is 99 % for sure but sometimes flights are delayed, traffic, changes in schedules etc and the vehicle with the child seat is held up. We do our best but sometimes things are out of our control. If you MUST have one, it is best to bring yours from home. Our child seats are the baby-style, rated for up to 40 lbs front-facing. We do not have the booster-style seats. Only 2 car seats per vehicle.
Of course! Just email us your request and we will give you a quote for any restaurant. For the grocery stop it is an extra $30 for each hour or partial hour. Usually 1 hour is sufficient. It must be booked ahead of time. We will take you to the most logical store (route wise) on the way to your hotel. We can also go to and from between hotels, parks, shopping etc.
If you are going south the driver will be happy to stop at the 7/11 or you can grad a cold drink before loading into the vehicle right at the airport.
You will receive 3 e-mails from us. The first is just a quick one showing what you entered. The other two, one is for the arrival portion, and the other for the departure service. These two e-vouchers contain all the directions, phone numbers, amounts due etc. If you do not receive an e-voucher within 24 hours, please contact us.
We take you almost anywhere! Please click on the other destinations above. Email us for a price if you don't see your city.
$1 or $2 to the guy who greets you. Tip for the driver IF he helps you with your bags, explains things to you along the way or leaves you alone if that is what you prefer. Drivers depend HEAVILY on tips, but they know they must earn them, much like waiters. In the end, you can tip whatever, if you want and whomever you want.