The Best Tips For Your Cancun Vacation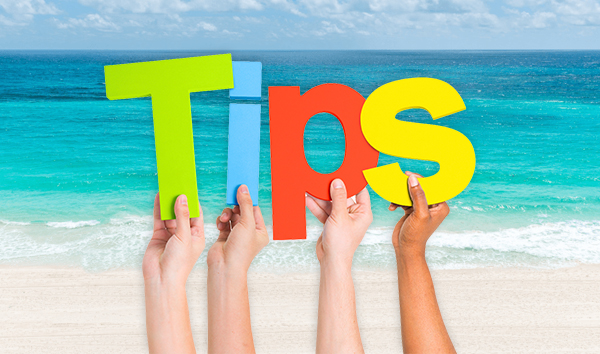 Here are the best tips for your Cancun vacation. You'll find them very helpful when you travel to this paradise!
The best tips for your Cancun vacation
Don't drink the water even if the hotel has a purified water cistern; it tastes funny. Due to the characteristics of the subsoil, which allows seepage, it can become contaminated.
Mexican bottled water is 1/3 the price.
There are timeshare sales reps everywhere! They will tell you anything, and they will offer you free tours or dinner. DO NOT STOP! … If you forget this tip, and you find yourself talking with timeshare people, just tell them: "Sorry, I don't have a Credit Card" … Trust me, this is the best timeshare repellent!
Set taxi fares before getting in. If you have a problem, take the number off the car & report it to your hotel.
Uber is not working 100% in  Cancun. 
Prearrange your airport transfers before traveling. It is safer and more convenient.
Exploring Cancun is very easy. There is only one way to go forth and back. Just take the red buses "R1" or "R2" and tell the driver where you want to go. Be aware that you are on the right sidewalk. They are really cheap and safe.
Continue reading this great Cancun Tips
Use environmentally friendly sunscreen and mosquito repellent when in national water parks. You can find them in all the stores and parks around the area.
DON'T let people change your mind about a restaurant. 'Oh, that restaurant is closed' or 'My uncle owns a better one.' Every restaurant pays a commission to taxis, travel agents, reps, bell boys, front desk clerks, maids, salesclerks, iguanas, sharks, monkeys, etc. The commission could be as high as 15% of your bill, and of course, that fee is added to the menu price. 97% of restaurants pay.
Most people speak 'JOB English,' meaning they get by when you ask them questions that they answer daily. Speak slowly & clearly. Don't use unusual words. Don't expect everyone to understand your accent.
Ocean temperature year-round is 80F so, jump in.
Crossing the street is not a right; it's a challenge. Be on the defensive.
Continue reading Cancun best tips
Use sunscreen even on an overcast day.
If you were 2 hours from the pyramids in Egypt, would you go? If yes, go to Chichen-Itza.
Ice is safe in the drinks. All restaurants wash the vegetables in purified water—even the taco guy on my corner.
Always carry change! 5, 10, 20 pesos.
ATMs, credit card slips are in pesos, so DON'T PANIC when you see all those zeros.
Watch out for hot salsa! It's the next day that bites. Well, bites… Oh! And never ask a Mexican if a salsa is hot. They will usually tell you 'No pica' ('it doesn't burn'). They are used to eat hot, spicy food; probably, you are not! 
How to speak better Spanish? Drink more tequila!
Best things to do? Get up at 6:30 am & walk on the beach. THE BEST!
Tip your maid daily; a buck or 2.
Exchange your dollars in exchange houses, maybe your hotel or banks. You will get a better rate than the stores and restaurants. 
Plan to eat out, go to clubs, or do any tours.
Huge amounts of alcohol + hot weather + pool is not a good combination. Sun exposure and heat can magnify the effects of alcohol consumption. Drink responsibly!
Use your common sense. Don't go to dangerous places or go around the city at night, things happen in every part of the world.
The best time to come to Cancun is the whole year. You can check the forecast and Facebook groups as Cancun Addicts, where people are always eager to help.
Hurricane season is never that terrible.
Sargassum is unpredictable. People and the government are constantly working to have the beaches clean for you. (Click here for more information about sargassum in Cancun).
Tips Regarding COVID-2019
You are not required to have a Covid Test to come to Mexico.
If you need a  Covid test to return home, ask your hotel and do it with time. Most hotels are offering the tests at their facilities. If your hotel is not offering the COVID tests, here's a table with other places where you can get it. https://sedeturqroo.gob.mx/ARCHIVOS/TABLA-1-C19.pdf 
Practice social distancing and book private transportation in advance to avoid crowds.